Don Mc Lean
Knocknarea Arena, IT Sligo
8:30 pm | Sun 3rd June 2018 | Doors open 7pm
Book your tickets here!
SLIGO LIVE CELEBRATE MUSIC CITY SLIGO WITH SPECIAL DON McLEAN CONCERT ON JUNE BANK HOLIDAY WEEKEND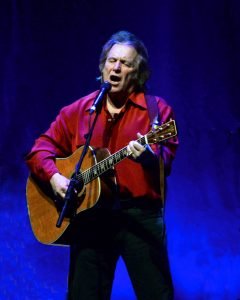 In an exciting new departure, Sligo Live is delighted to host the legendary Don McLean for a concert on Bank Holiday Sunday night, 3rd June 2018 in the Knocknarea Arena at IT Sligo. This will be the American artist's first ever Sligo appearance. Tickets for the all-seated show are on sale priced at €49.50 + s.c.
The talented singer-songwriter rose to international fame on massive hits like Vincent (Starry, Starry Night), American Pie, And I Love You So and Castles In The Air, all of which were some of the greatest hits in the history of popular music. He is a regular performer, touring North America, Europe and Asia and earning rave reviews from press and fans alike. His Sligo performance is part of a major Irish Tour.
Sligo Live co-producer Rory O'Connor said "Following the success of Sligo Live 2017, we felt we needed to do more to promote MusicCitySligo, emphasising that Sligo is a hotbed of music all year round, not just during Sligo Live. Don McLean is an example of the top quality artists we try to book for Sligo Live, but often our October dates do not coincide with their touring schedules and in this case, we decided to run it as a Sligo Live special."
He continued "Don will be touring with a full band. A support act will be announced later. Sligo music lovers and visiting audiences will enjoy a great night out. Don is such an immense artist who loves performing for Irish audiences. Over the years he has been one of the most consistently popular artists to play Ireland with Irish Number One's The Mountains of Mourne and Roy Orbison's Crying."
Over a long career, Don McLean has been recognized with multiple awards. His irresistibly catchy American Pie, said to have been inspired by the death of Buddy Holly. The 8.5 minute long two-sided single was number one in the Billboard Charts for seven weeks and in 2002 was named in the five greatest songs of the 20th Century. In 2000 Madonna covered 'American Pie' for a huge international hit and the song was inducted into the Grammy Hall of Fame in 2002.
In 2004 Don McLean was inaugurated into the Songwriters' Hall of Fame. His award was presented by Garth Brooks who paid this tribute:  "Don McLean his work, like the man himself is very deep and very compassionate. His pop anthem American Pie is a cultural phenomenon, and people are still trying to decode it after 35 years! He wrote other great songs like, And I Love You So, If We Try, Wonderful Baby, Winterwood, and my personal favourite Empty Chairs, which just kills me as a fan and a songwriter."
Also in 2012 Don was awarded the BBC Folk Music Lifetime Achievement Award and was selected by President Bill Clinton to perform at the Lincoln Memorial on New Year's Eve.
His performance of Empty Chairs inspired Killing Me Softly With His Song (written by Norman Gimbel and Charles Fox) a Grammy winner and a huge hit for Roberta Flack. McLean's song Vincent is played daily in the Van Gogh Museum in Amsterdam.
Tickets for this very all reserved seated show are on sale here and by phone or in person from the Hawk's Well Theatre, Temple Street, Sligo (071 916 1518) or from Ticketmaster. Tickets are priced at €49.50 plus service charge. The concert is on Bank Holiday Sunday, June 3rd 2018 at 8.00pm.