The Saw Doctors
Mike Scott of The Waterboys, discovered The Saw Doctors.   He also produced the band's first single, N17, written by singer Davy Carton and guitarist Leo Moran. Scott then offered the band a support slot on The Waterboy's Irish and British Tour.  The Saw Doctors were on their way. The Saw Doctors second release, I Useta Lover,  entered the Irish single charts, taking seven weeks to reach Number One and remaining on top for the following nine weeks. Then life got really fast for The Saw Doctors.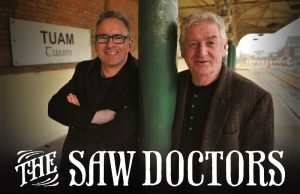 Another string of much-loved self-written releases cemented their success. Songs like Red Cortina, The Green and Red of Mayo, Joyce Country Céilí Band, Clare Island and To Win Just Once were adopted as the anthems of an Irish generation at home and overseas. Loved by their loyal fans, The Saw Doctors continue with resilience and effervescent energy.  They plan a new album release and a return to touring in late 2016 and next year.
ORCHID COLLECTIVE
Orchid Collective have been gigging relentlessly throughout Ireland, creating a fresh and exciting live
show for their growing audience. Mixing a combination of vocal harmonies and ambient
soundscapes, they take a completely unique approach to their alternative folk genre.
Touring around Ireland has seen Orchid Collective gather a loyal fan base, starting 2016 as Whelan's
Ones to Watch for a second year running. This is a band to watch!